---
Welcome to my gallery of Panoramic Images! I have been shooting photography since the early 80's. I have an arsenal of 35mm Minolta manual focus equipment and love taking pictures of just about anything! In 2000 I did a lot of research and bought a digital camera - the Olympus 2020z. It was a fantastic camera for it's day being a 2-megapixel advanced point-and-shoot. I shot with that for a couple years then upgraded to the Olympus C-5050 camera, a 5-megapixel shooter and shot literally tens of thousands of pictures with it. My latest move has been back into the SLR realm - but on the digital side - picking up a Nikon D200 and so far a 18-135 lens and SB800 flash.
Each image below is discussed, and includes how many images were stitched together to make the panorama, file size, physical dimensions of the final image, and date it was added to the site (not necessarily when the pictures were taken). Each image opens in a separate window, close it to return to this gallery.
Thanks for visiting and I hope you enjoy them!! Please send an email to Eric Bowden if you have any comments.

Check out my new venture: Edgy Elegance Photography!! I can shoot your wedding, real estate & home sales gallery, automotive art, and even custom panoramas for you!!!
PRINTS FOR SALE! Most of the images below can be printed on high resolution photo paper - I have a very high end wide-carriage photo printer with 8.5 inch and 13 inch wide roll/banner premium glossy photo paper. If you would like a print, please email me which one you are interested in. Price is $75 unframed and $100 framed (black or silver frame). Price includes shipping to US destinations. I can accept Paypal or credit cards via Google (I'll send an invoice).
Amazing Charlotte Sunset
It's been a while since I saw a really cool sunset, and even longer since I had my camera (or at least A camera) nearby to capture it! I was sitting at work and noticed the ambient color outside kept changing, so Igot up and peeked outside to see the sky aglow! I grabbed the shop camera (a mere 4mp Olympus 4040) and snapped a couple dozen pics, including 2 panoramas. Photos taken December 4, 2007, in Concord, NC, just north of Charlotte.
A 3image panorama. 165kb. 1600x533 (Added 12/4/2007)


A 6 image panorama. 1239kb. 1600x353 (Added 12/4/2007)


| | | |
| --- | --- | --- |
| Cape Hatteras Light House, North Carolina | | |
| This famous lighthouse just south of Nags Head, NC, was actually MOVED - the entire tower and foundation as a single unit! - about a 1/4 mile from being right on the sandy beach to further inland to prevent falling victim to the changing shoreline. 3 images stitched together vertically. 215kb. 991x1600 (Added 1/29/2007) | | Took a few steps back and got a much better and more natural looking image. This one is framed in a 12"x36" frame and hanging in my house :-) A 4 image vertical panorama. 155kb. 787x1600 (Added 1/29/2007) |
| | | |
Pouring the Foundation
I happened across this giant cement truck, well, cement pump/crane truck while on a morning run. Got my camera and returned to take some pictures. The actual cement trucks would back up and empty into this huge truck and it's far-reaching arm would pump the wet concrete out into the foundation of this building. Shot a couple pans, the second one zoomed in a little more to make larger pictures and capture mode details.
A 4 image panorama. 245kb. 2000x540 (Added 1/29/2007)


The source file for this one is 8694x1939 pixels!!! A 5 image panorama. 199kb. 2000x446 (Added 7/17/2001)


He Said She Said?!
Shot as a pure joke, I was hanging out at a car club meet with friends waiting for our lunch to arrive, my camera was just sitting there on the table in front of me. I said the him across from me to just look straight ahead and I angled the camera up to shoot his head. Then I had the girl beside him just sit there and I took a picture of her from the table line up to her chin. Obvioulsy the surroundings don't mesh (the red on the lower edge is the Coke glass the camera was beside), but the main subjects of the two images went together scarily well!
111kb (Added 1/29/2007)
The National Gathering 2002 for 3000GT / Stealth International
There were somewhere in the neighborhood of 175 Dodge Stealths and Mitsubishi 3000GTs that showed up at the first gathering to be touted as The National Gathering for owners of these cars. Of course I had to get a pan or two. Here's one I took from the rooftop of the restaurant where the banquets were held. 425kb 3000x710 (Added 9/4/2002)


"The 3SX Nationwide Tour 2002"
Between July 2 and July 10, 2002, I made a very long trip for the company I work for: 3SX Performance Automotive. I drove our big diesel rollback car hauler from Charlotte NC to Seattle WA to deliver one can and pick up another, then down to San Jose CA to pick up a second car (on the trailer I was also pulling), and then all the way back across I-40 home to Charlotte. Total was 6,600 miles in 9 days and 120 hours of driving. Along the way, my camera never rested. I shot over 1000 pictures, and netted these 8 panoramas from different parts along the way. You can see the entire trip gallery over on the 3SX Website here.
(All 8 Added 9/4/2002)

Columbia River and Ginko Petrified Forest State Park, WA
6 image panorama, 4000x648, 427kb
This was really the first place I actually stopped for the sake of "sight-seeing" After about 2900 miles of however far I'd been at this point, I was ready to actually see something. I shot two different pans here from different viewing spots.

Meteor Crater National Park, AZ
5 image panorama, 4000x829, 580kb
Since I couldn't go to the Grand Canyon due to the fact I was driving an oversized commercial truck, I stopped at the Meteor Crater. That's a BIG hole!! Got a few pans here at different widths and different perspectives. This thing is like a mile wide!

Petrified Forest National Park, AZ
6 image panorama, 4000x612, 485kb
This is a favorite of mine. I loved the surrealistic landscape with the striped rounded roly-poly hills and rock formations. If you look closely, there's a guy walking on the path in the lower middle. Talk about putting the size of this area in perspective!
New York City, as it was before September 11, 2001
I was in NYC just a week before the day that the world will never forget. I took pictures of the skyline from the boat going to Liberty Island, visited the World Trade Center Towers, enjoyed a concert in the square there, and took many pictures. Here are a couple panoramas I shot, ovbiously the last pictures I will have taken of NYC as it was prior to that fateful Tuesday morning.

Talk about towering overhead!! All 110 stories of World Trade Center Tower 2. Taken from about 50 feet away from the base of the building. A 4 image vertical panorama.

If you look closely at the image, you can see a light tan coloring along the right side. After months of looking athte image, I finally realized that it's the other tower reflected in this one! Only when I really looked closely at this smaller one did I finally realize that. 220kb. 800x1417 (Added 9/17/2001)
East Coast Gathering 2001, Ocean City, MD
The 3000GT / Stealth International Owners Association has their big annual gatheing in Ocean City each May, and 2001 was the 7th annual and largest one yet (each has been progressively bigger) with 114 cars and 200 people in attendance. Click here to visit the site dedicated to the event. I shot a couple pans there.
Saturday morning at Hooters, both of their parking lots were nearly completely filled. A 4 image panorama. 215kb. 2500x581 (Added 7/16/2001)


Everyone caravaned out to a boat launch for big group pictures. This year the entire boat launch was filled! A 4 image panorama. 199kb. 2000x517 (Added 7/17/2001)

Fontana Dam, NC
These are my first 360 degree panoramas! They actually came out pretty good, and now that I have shot a full around view, I was able to make active QuickTime movies of them. I've posted two panoramas and one of the QuickTime movies.

12 images stitched together spanning over 360°. 259kb. 5000x482 (Added 7/16/2001)


11 images stitched together spanning over 360°. 230kb. 5000x461(Added 7/16/2001)

360° QuickTime movie. QuickTime required to be installed on your system. 325kb. Use your mouse to pan around the image dynamically.
Click if you need the QuickTime plugin.
Blue Ridge Parkway, NC
Taken during a car club gathering from a hillside by the rest area in North Carolina which is at the highest point on the entire Blue Ridge Parkway - 6053 feet. A 5 image panorama. 182kb. 3000x603 (Added 7/14/2001)


Chimney Rock Park, NC
Located in the mountains in western North Carolina, not far from Asheville and the Blue Ridge Parkway, and near Lake Lure, Chimney Rock Park is a great place to do some hiking and take pictures. This panorama was shot from the Opera Box overlooking Chimney Rock. Unfortunately, I got there after the sun had aleady moved past Chimney Rock itself. But it still offers a great view of the valley. Pictures were taken in the spring before the leaves started showing up. A 6 image panorama. 145kb. 2500x434 (Added 7/14/2001)


Watkins Glen International Raceway, NY
I visited Watkins Glen in the fall of 2000 with my parents, they were on a trip with my dad's company as his boss was into old race cars and was racing one of his. I was invited to come along and got some great pictures. It was during the Zippo Classic Race Weekend.
The front straight away and pit row. Shot during limited time trials, so there were only a few cars on the track at the time. A 10 image panorama. 215kb. 4000x530 (Added 7/13/2001)


Turn one and the uphill following it. I shot a bunch of pictures from right against the track guard railing down by the house by the stands. A 10 image panorama. 350kb. 5000x530 (Added 7/13/2001)


One of my favorite panoramas. Nearly 270 degrees of view! Taken from atop the tower on the front straight, spanning around and covering the entire track.. Created from 17 images!! 350kb. 5000x393 (Added 7/13/2001)

Biltmore House
I believe it's the largest house in the US...? Whatever, pretty neat house, decorated with a European flavor, and with very nice gardens and greenhouse. A 3 image panorama. 150kb. 2000x747 (Added 7/13/2001)


1993 Dodge Stealth R/T Interior
I've been wanting to do this for a while. This is the entire cockpit of my 93 Dodge Stealth with custom stereo and door pods. Ready for takeoff? A 4 image panorama. 226kb. 2000x850 (Added 7/12/2001)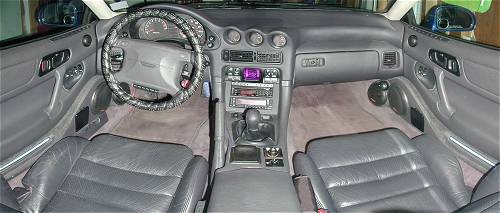 Cedar Point Amusement Park, Sandusky OH
The KING of roller coaster amusement parks! Cedar Point has 17 roller coasters, the most of any park in the world. And it has some of the best coasters in the world as well (Millennium Force, Magnum, Raptor). This is the Power Tower, which is two rides in one. Two of the towers haul you up to the top of the 260ft tower and launch you down 240ft (not drop, but launch). The other two, you sit at the bottom and are launched straight up at a rate of 0-60 in something like 1.5 seconds! A 3 image vertical panorama. 163kb. 879x1500 (Added 7/12/2001)
| | | |
| --- | --- | --- |
| Quechee Gorge, Vermont | | |
| Quechee Gorge in Vermont is a straight gorge over a mile long, and with a bridge spanning 170 feet above the water. There is a trail leading down to the water about a mile downstream (end of the water in this picture, where the water turns to the left). 3 images stitched together vertically. 225kb. 782x1500 (Added 7/12/2001) | | I thought this tree was really cool. It splits right out of the ground and looks like two trees reaching for the sky, but it's really one. A 3 image vertical panorama. 198kb. 412x1500 (Added 7/12/2001) |
| | | |
Quechee Gorge Dam, Vermont
Quechee Gorge in Vermont has a dam about a half mile upstream that controls the water flow through the gorge. This is only a few miles from Hartland Dam below, but they are not connected and do not feed into each other. 3 images stitched together. 391kb. 2500x772 (Added 7/12/2001)


Hartland Dam, Vermont
Man made dam built in 1961 to help prevent spring time flooding after heavy winters. The red line of debris represents a high-water mark of 135 feet from 1987. 2 images stitched together. 91kb. 1500x638 (Added 7/12/2001)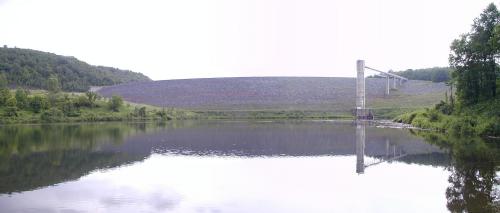 New York New York Casino, Las Vegas
Inside the New York New York casino - "The Big Apple", "The New York Slot Exchange", Lady Liberty doing the Marylin Monroe, and loads of slots. 6 images stitched together. 281kb. 2175x480 (Added 9/11/2000)


Las Vegas from 900 feet
The Las Vegas skyline taken from atop the Stratosphere. 7 images stitched together. 265kb. 2700x636 (Added 9/7/2000)


Lake Mead, NV
Created when the Hoover Dam was completed back in the 1930's, it offers a beach 500 miles from any ocean. Huge 10-image panorama. 218kb. 4278x480 (Added 9/7/2000)


Hoover Dam, NV
One of the world's largest dams. 7 images stitched together to portray the dam and valley after it. 198kb. 2400x440 (Added 9/7/2000)


3000GT / Stealth International goes to Nelson Ledges Road Course, OH
Some members of my car club make a showing at Nelson Ledges Road Course, a 2-mile 13-turn track in Ohio. Mine is the blue one 3rd from the left. A 9-image stitch. 267kb. 3000x385 (Added 9/7/2000)



Links to Other Galleries


Carl N Gray - Click on "the brisbane pan project" for panoramas. An awesome gallery with tons of great panoramas, including many 360º pans.
| | | |
| --- | --- | --- |
| | | Web Stats Compliments of Extreme Tracking |